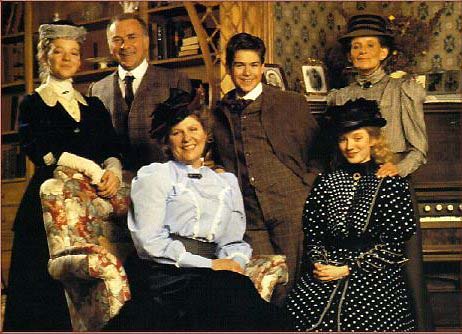 SARA STANLEY
Sara is the only child to Blair and Ruth Stanley.
Due to Ruth's early death Sara is sent to live with her relatives in Avonlea.Soon after her arrival she begins to belong.Shortly after her father is killed in an accident at work and Sara will remain in Avonlea versus returning to Montreal. Sara is very sweet and easy to like.She has a very romantic perspective of life and a nack for trouble.


HETTY KING
Hetty is eldest of the original King family.
She is bossy,domineering,and strict.She is also the school teacher for the town.

ALEC KING
Alec is the second child in the original family.He runs the farm and has four children with wife,Janet.
Alec is hard working,caring and kind.

JANET KING
Janet is a doting mother and wife.She is very sweet and very blind to her children's faults.She is always trying to see that they are well taken care of and in a way caterd to.
She and Hetty have never been known to get along which causes much confusion at times.

OLIVIA KING-DALE
Olivia is the youngest of the original family.
She was always being bossed by Hetty until she married Jasper Dale.She is very strong willed,sweet and loveable.


FELICITY KING-PIKE
Felicity is the oldest child to Alec and Janet King.She is very much like her Aunt Hetty.She is pushy,bossy and often times cruel to her brother,Felix.As the show progresses she mellows out some,mostly at the arrival of Gus Pike,her only love and future husband.


FELIX KING
Felix is the second youngest to Alec and Janet.He is a schemer always looking for away to get rich and fast! He eventually becomes a hard worker.Only not on the farm,at the White Sands Hotel.At the end of the series he enlists in the Navy.


GUS PIKE
Gus is a young dirt-coverd sailor with a heart of gold.
Gus is an honorable young man who is treated as one of the family.He goes on to fall in love with young Felicity King and they are married in the series last episode.

JASPER DALE
Jasper is an ex-recluse who has a huge heart and a creative mind.He invents terrific devices,if only someone would beleive in him.Olivia King and he begin working on the Avonlea Chronicle together.Soon enough they fall in love and get married.


CLIVE PETTIBONE
Clive is a widowed military man who moves to Avonlea to take over as school teacher.He brings along with him his son Morgan and daughter Izzy.His oldest son was at vetrenarian school at the time.

IZZY PETTIBONE
Izzy was raised to be one of the boys.She engadged in playing baseball,hunting and pretty much anything else the boys did.One day Izzy began to dislike being one of the boys and turned into a lovely young lady.She was also Felix King's best friend and soon that friendship turned to love.


MURIEL STACEY-PETTIBONE
Muriel returned to Avonlea to run the general store.She then fell in love with Clive Pettibone and they went on to get married.She is loveable,kind and as sweet as they come.